---
Catholics United For Life
---
Theo Stearns, of Catholics United for Life, has written a beautiful booklet on Angela's life and death.
---
Angela was a young Catholic woman who loved the unborn, who sacrificed to save babies from abortion, who invited and inspired, other young people to get involved in pro-life activities--and who finally prayed for the unborn with her last breath.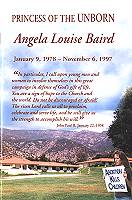 This is a story that reveals the mercy of God who gives those who love Him the graces necessary to face the challenge of the culture of death.
I believe this story should be read by all who need inspiration and renewed courage to keep fighting for the lives of the unborn--and that is all of us!
I especially believe it is a story for youth and young adults. Angela lived her love the for the unborn in ways we can all imitate--by a life of prayer and by her witness to love for life in word and deed.
Preparation for the Third Millennium requires both repentance and the fortitude to undertake apostolic works -- Angela is one model of a young person who was a witness for Christ in our culture of death.
Please order a copy for yourself and some additional copies to give away! I am offering bulk prices so that this 24 page booklet with full color photographs can be used for distribution by you, your organization or your youth group.

To order:
#0129 Angela Baird - Princess of the Unborn
The story of a young sidewalk counselor who prayed for the unborn even with her last breath. A 24-page booklet with color illustrations.
  1 COPY   -   $3.00+   FREE S&H
 10 COPIES -  $20.00+  $3.00 S&H
 50 COPIES -  $75.00+ $11.00 S&H
100 COPIES - $125.00+ $18.00 S&H

Mail check or money order to:
Catholics United for Life
New Hope, Kentucky 40052
Include your name, address, phone number, and the number of copies you would like to order.
---
Angela's Apostolate for the Unborn
---
Pro-Life Resources
---
---
The Baird Family has set up a trust fund in order to donate funds to various pro-life causes in Angela's memory. Donations may be sent to:

Angela Baird Memorial
c/oSpokane Teachers Credit Union
P.O. Box 5264
Spokane, WA, USA 99205-0264
Phone: 1-800-858-3750
---

---
---

The Baird Family: bairds@bairds.net
Designed and Maintained by Patricia Baird
Backgrounds by Marvelicious