---
Angela's Story In the News
---
Angela Baird
Spokane--November 11, 1997
Funeral Mass for Angela Louise Baird, 19, will be at 10:30 a.m. today at Mary Queen Catholic Church. Burial will follow at at Holy Cross Cemetery. Hennessey-Smith Funeral Home is in charge of the arrangements.
Miss Baird, who was born at Fairchild Air Force Base, died Thursday after falling off a 60-foot cliff near Santa Barbara, Calif., while hiking with other students.
She worked with Life Line Ministries Pro life Program, Prison Ministries (and organizing sidewalk counseling at St. Thomas Aquinas College where she was a student.
Miss Baird had been a resident of Spokane for 11 years and was a member of Saints Cyril and Methodius Byzantine Catholic Church.
Survivors include her parents, Margaret and Michael Baird of Spokane; three brothers, Bryan Baird of Falls Church, Va., and Joseph and Anthony Baird, both of Spokane; and six sisters, Patrica Barbiero of Tappan, NJ-, Christine Durka and Mary, Susan and Madalene Baird, all of Spokane, and Kathryn Baird of Dallas.
Memorial contributions may be made to the Angela Baird Memorial Trust Fund, c/o Spokane Teachers Credit Union.
---
Ventura County Star--November 7, 1997
19-year-old hiker dies after falling off cliff
"HEROIC DEATH": Parents, classmates at Thomas Aquinas College mourning loss.
By Bruce McLean and Phillip W. Browne
Staff writers

---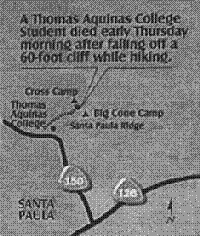 A Thomas Aquinas College student died early Thursday morning after falling off a 60-foot cliff while hiking a popular trail near Santa Paula, authorities said.
Angela Baird, 19, a sophomore at the tiny Catholic liberal arts college, apparently slipped into a crevasse Wednesday night and tumbled off the trail near the Punch Bowl, a popular Ventura County hiking destination several miles from the campus.
She was airlifted out of the rugged area by a Ventura County Sheriff's Department helicopter and underwent surgery at Ventura County Medical Center, but she died just after 1 a.m., authorities said.
The girl's parents, Michael and Peggy Baird of Spokane, Wash., said they are devastated. Family and friends were gathering at the family's Spokane home late Thursday.
Michael Baird said many of the students his daughter was hiking with stayed with her after she fell. Angela was conscious, and they all prayed together.
"She was a devout Catholic and died a heroic death," Michael Baird said. "She inspired everyone around her."
Baird, who didn't have a specific course of study at the college, was schooled at home in her hometown and didn't attend public high school.
During her time in Ventura County, Baird was one of a handful of students who taught catechism at local jails. She also wanted to establish a sidewalk counseling program to talk to women entering abortion clinics.
"She was very much against abortion," her father said. While living at home, she was photographed at an anti-abortion rally and the photo appeared in Spokane's local newspaper.
Baird was close to her brother, Joe, a senior at Thomas Aquinas College. He was preparing to fly back home to be with his family, Thomas Aquinas Dean Glen Coughlin said.
Baird's death jolted the campus, which has more than 200 students. A flag on the campus commons flew at half-staff, and, a school official said, most students were gathering at the school's chapel for comfort.
"Many of the students are very distraught," Coughlin said.
Coughlin called Baird a devout Catholic dedicated to her studies.
"People used to tease her and ask her how many times she had been to the chapel that day," Coughlin said. "She was very pious."
All classes and campus activities were canceled Wednesday and for the rest of the week. Classes will resume Monday, Coughlin said.
A memorial mass was scheduled for this morning, Coughlin said.
"That will permit a public grieving for the students," Coughlin said.
Baird's body was flown back to her hometown, according to the Ventura County Coroner's Office.
The tragedy occurred after Baird and about six other students set out for a camping trip Wednesday night. At a spot about three miles from the campus, Baird fell. Some students stayed with her while others went for help, authorities said.
Helicopter Crew Chief Greg Chase said a student with a flashlight led him and a paramedic to Baird after the copter dropped him into a rugged hillside.
"It wasn't difficult to find where she was at. Getting to her was difficult," Chase said.
Students often take the trail to the Punch Bowl, a series of swimming holes in a gorge at the end of the trail. Coughlin said he didn't think that practice would cease.
"We do tell them in the student handbook that hiking around here can be dangerous," Coughlin said. "I don't know what else we can do. That's all public property back there."

Obituary (Spokesman Review) | Ventura County Times | National Catholic Register
---
---

The Baird Family: bairds@bairds.net
Designed and Maintained by Patricia Baird
Backgrounds by Marvelicious